Nomad announces a $80 leather wallet with a 2400mAh smartphone battery charger
8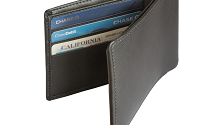 Yesterday, we talked about the
Ion Belt
, an interesting accessory that's part leather belt part external power bank. If the idea of integrating a battery pack in a common accessory seems interesting to you, but don't feel like the belt is any place for voltage, you might want to check out Nomad's latest accessory.
The Nomad Wallet has all the makings of an ordinary wallet: a grained leather exterior, space for up to six credit/debit cards, as well as a compartment for cash and other paper bills. The size of the accessory, 25 x 85 x 125mm, is also comparable with the average leather folded leather wallet.
Look closer, though, and you'll find that the Nomad Wallet features a battery pack in the hinge. Compared to other power banks, it doesn't look like much, but don't let the size fool you. Carrying a capacity of 2,400mAh, the battery can fully charge most phones. A separate USB port allows the battery to be recharged in just a few hours from a wall plug.
At the moment, the Nomad Wallet only comes in an iPhone-compatible version with a Lightning connector. The company said that an Android version of the wallet is on its way as well.
If you're sold on the Nomad Wallet, you can pre-order one now from the company's website at the promotional price of $79.99. The accessory starts shipping on November 15, which is when the price will go up to $89.99.