Nokia's Italian website has the N8 pre-order pinned at 469 EUR ($610)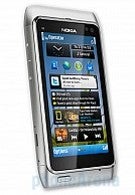 We were promised a 370 EUR ($480) for the Nokia N8, and now we want to cry. An Italian website has it up for pre-order, and the price is the disturbing 469 EUR ($610). Granted, the initial quotes were before taxes or carrier subsidies, but we still would like to whine a little bit before we realize that price is no different than the best smartphones out there in an unlocked state.
We guess the (supposedly) best cell phone camera out there and the Dolby Digital Plus in a sexy anodized aluminum body with HDMI-out don't come cheap, but, come on... If Nokia pulls the trigger, and lowers its profit margin a bit, it will make the N8 the most desired handset to get at that price, regardless if you like Symbian or not. Still, there are a couple of months before it is out for good, and hopefully the price will be coming down with time.
Nokia N8 Specifications
|
Hands-on
via
UnwiredView