Nokia's Chief of Design talks about the Lumia 920 and relationship with Microsoft
8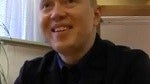 Marko Ahtisaari sat down for some question and answer time with Mobile Geeks. During the 30 minute interview, Ahtisaari discusses his first meetings with Microsoft to where he draws inspiration for designs.
The interview starts off directly with the design relationship Nokia has with Microsoft, and how the relationship got its true roots with lunch and working with "rockstars." The creative elements of the teams seemed to fit very well.
Further insight is given to the overall mentality of finding inspiration for designs and how projects take shape. What is very interesting is how specific elements are looked at to aid in the development of new products from nearly every angle. In terms of the user experience, Ahtisaari compares the current state of the overall industry standing and the current user experience to that of the early automobile industry over 100 years ago. He even inserts some Nordic pride in the design influence.
Ahtisaari reflects on his team's work in the face of Nokia's challenges and notes that Nokia's design team is uniquely built in ways other companies are not, encompassing design, user experience and engineering. It is quite a revealing look at how Nokia approaches and develops its products.
source:
Mobile Geeks