Nokia with 4G devices by 2010... for Verizon?
18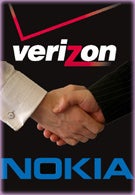 According to GigaOM, a Nokia executive has announced the company's plans to manufacturer its first devices for the future LTE networks by 2010. Sadly, at a PCCA meeting in Grapevine, Texas, James Harper, Nokia senior manager of technology marketing, has not provided any details on the handsets the company is about to prepare, but has stated that they would be data intensive.
Maybe some of you are already willing to ask which would be the carrier that Nokia is going to work with to deliver the future handsets to the market. While there isn't any official information on the case right now, there are some rumors, suggesting that the manufacturer might have reached for Verizon's helping hand in order to regain some of its lost market positions in the U.S. Moreover, Verizon will also benefit from the pact, since the carrier surely remembers how AT&T managed to take over a large part of the U.S. smartphone market by signing with Apple for its
iPhone
. So far, details about their secret project are too scarce; all that is known about it is that it would be a high-speed 4G LTE handset capable of HD video and other services, demanding high-speed data transfers.
source:
TheStreet
and
GigaOM
via
Gizmodo