Nokia was the top handset manufacturer in 2011 says report
24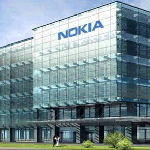 According to a new report from Strategy Analytics, not only did the Apple iPhone
r
ecapture the global smartphone lead
with an amazing fourth quarter of 2011
, it also achieved
its highest all-time marketshare
amongst all mobile phones worldwide. With 8.3% of the global marketplace for all mobile phones, Apple trailed frontrunners Nokia (25.5%) and Samsung (21.3%). For the entire year, Apple is said to have sold 93 million copies of the Apple iPhone for a 6% slice of the pie.
Nokia shipped 417.1 million handsets in 2011, including
113.5 million in Q4 alone
. According to the report, the Finnish based manufacturer was led by its dual-SIM powered low-end models in Southeast Asia. Initials shipments of the Windows Phone packed Nokia Lumia did not make up for the decline in Symbian powered models. With 327.4 million handsets sold in 2011, Korea's Samsung was number two with a 21.1% share for the year. For the last three months of 2011, Samsung sold 95 million units for a 21.3% marketshare. The company was led by its popular Samsung Galaxy S II unit.
source:
StrategyAnalytics
via
AppleInsider