Nokia shares some "Lumia Stories," an Arctic explorer, accident recovery, and disaster survivor
21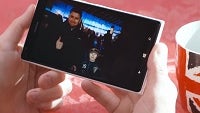 If there is one thing that Nokia has, it is a story. The journey that company has taken for over 100 years is quite story in itself. As such, the company likes to engage with people who also have a story to tell.
One Nokia device that can record, and recount, stories pretty well is the
Lumia 1520
. Nokia connected with 100 different people of 100 different ages and chronicled their story using the Windows phablet.
The first three stories being shared start with 91-year-old Don, who used to be an explorer of the Antarctic. With his background in being a radioman in the military, he was able to join an exhibition and it has been never ending story since. Dan recounts always keeping a mobile phone with him, and the Lumia 1520 was ready to work with his "inquisitive mind."
Next, we are joined by 40-year-old Joe, who was hit by a car while riding his motorcycle in 2009. His injuries were severe, with a lot of damage to his spine, leaving him with having to manage a lot pain. He is rebuilding his life and training to be a graphic artist with a focus on designs for the gaming industry.
Finally, Brayan, age 29, and his nine-month pregnant wife were displaced by the damage of hurricane Sandy which ripped through the northeast in 2012. Brayan started over with a Lumia 1520, chronicling the birth of his son, and watching him grow.
Lumia devices can tell some great stories, aided by Nokia Storyteller.
The Lumia 1520 is particularly good
at it because of its beautiful HD display, superb 20MP camera, and the Snapdragon 800 processor chews on all of it with no problems at all. We are looking forward to learning the next 97 Lumia story installments. What's your story?