Nokia marketing VP quits company ahead of Windows Phone 8 launch
11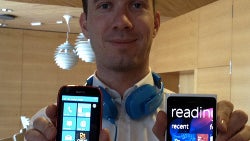 Nokia has already announced its brand new
Lumia 920
and
Lumia 820
, its new Windows Phone 8 devices, but it wasn't the first phone maker to do so - Samsung was. The company still hasn't provided the details about them like price. And most recently, Microsoft's chief executive Steve Ballmer went on stage lavishing praise on the newest HTC Windows Phones. All of that is not great marketing for Nokia.
And now, the company's vice president of product marketing heading the Lumia smarthpone strategy,
Ilari Nurmi, has left Nokia
. Nurmi confirmed this in an email sent out to to Reuters, but didn't specify the reason for his leaving.
Was he fired, or was it discontent with what was going on at Nokia? We don't know, but what we do know is that the success of the new Lumia smartphones is crucial for the Finnish phone maker.
The company adopted Windows Phone as its main smartphone platform in early 2011, and since then has been in free fall. Releasing the first Windows Phone devices in the Lumia series brought little consolation as users weren't buying them as Nokia had hoped for.
Lastly, Microsoft's
Windows Phone platform started to lose market share again in August
, after peaking at around 4% of the smartphone market in May 2012.
source:
Reuters