Nokia is burning cash too fast, facing further downgrades
55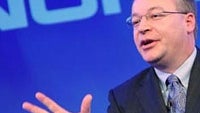 Nokia had nearly 10 billion euro in cash reserves at the time when the iPhone hit the market in 2007. It was a turning point - since then, the number has dwindled, and lately its just sliding as Nokia is burning cash so fast that bearish analysts warn that the Finns are facing default in 2 years if the worst-case scenario comes true.
The average expectation is for
Nokia to burn through another 2 billion euro in just the next three quarters
, a Reuters poll of 30 banks and brokerages showed.
And the worst-case scenario would be a repetition of what happened in the last five quarters when Nokia lost 2.1 billion euro of its cash reserves. The speed at which Nokia dips its reserves has only accelerated recently.
Nokia's spreads do not reflect the severity of the company's situation
It doesn't help that two of the big three credit rating agencies, Standard & Poor's and Fitch, have downgraded Nokia stock to junk, and Moody's ranks it just above junk, making it costlier for Espoo to borrow money. At the same time, the Finns are looking to find money where they can. We've heard about them trying to sell Vertu, but that will only bring them around 200 million euro. Other possibilities include sale of patents where Nokia is still very strong, or even splitting up and selling their low-end feature phone division.
"In our opinion, the company's ability to repay even its shorter-term 2014 bond could be an issue,"
French bank Societe General analyst Juliano Torii said.
"Nokia's spreads do not reflect the severity of the company's situation."
Lumia Windows Phone are expected to sell 20 million units this year
The bank's analysts downgraded Nokia's stock recently, and said they won't be surprised if the major credit rating agencies downgrade the Finns further soon.
Of course, there are more optimistic estimates for the future of the former global leader in phone sales. Hopes are for Nokia's Lumia Windows Phone series to sell 20 million units this year, and 46 million next year. Finally, there's also Microsoft, already paying $1 billion a year to Nokia. Given the close ties between Nokia and Microsoft top management, it would be no surprise if Microsoft comes to save the day for its biggest Windows Phone partner.