Nokia XL hands-on: a bigger take on Android from Nokia
26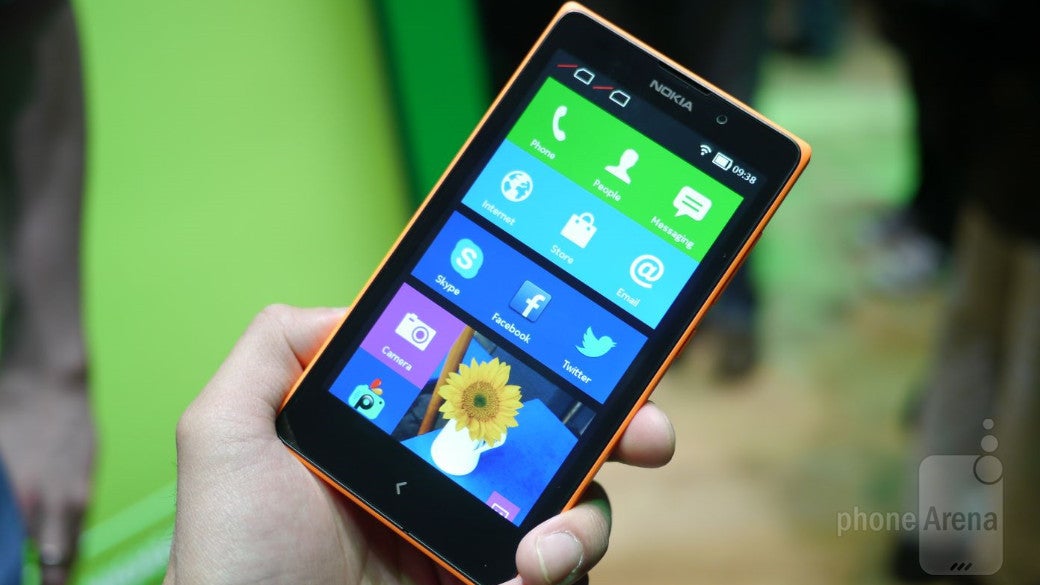 Venturing into something new is always a scary thing, even for a veteran phone maker that's been climbing back up the ladder for the last few years or so. Nokia has seen its fair share of ups and downs during that time, so it came with great uncertainty when rumors first came floating to the surface regarding plans of making an Android powered smartphone. Fast forward to the present and Nokia finds itself yet again in another crossroad.
On one side, they haven't neglected the low end segment, which is made especially known by their continued commitment to its Asha line of devices. And on the other end, its Lumia line has shown us the potential wonders of what its high-end smartphones are capable of doing. Well, they're venturing out again in open waters by entering the Android sphere with a trio of new smartphones from its X line. In this hands-on post, we're focusing our attention on its biggest sized offering – the Nokia XL!
Design
Nokia is just spot on when it comes to designing a smartphone, which manifests again with the Nokia XL. You could argue that it borrows heavily from its Lumia line, a fitting gesture to say the least considering that Nokia's handset have a distinctive look to them. As for the Nokia XL, it's not a bad looking phone when you look and hold it – though, its build quality is a clear indication of its target audience.
Whereas the Lumia line is sometimes daring, the design of the Nokia XL is more subdued, which is evident by its hard lines and overall boxier look. From a profile view, we can make out a subtle taper to its design, but when we hold it, we can feel the sides and edges of the phone digging in slightly into our hand. Plastic by nature, it's not the same sturdy variety we see with the polycarbonate casings employed by devices like the Lumia Icon, 1020, and 1520 before it. Rather, it's a flimsier type that gives the middle portion of the rear casing some hollowness. However, we really appreciate that the rear cover is interchangeable – and the fact that it's available in an array of colors too.
All the elements we find on any smartphone are littered around its edges, so they include the power button, volume control, 3.5mm headset jack, and microUSB port. There's a single capacitive back button beneath its display, while a 2-meapixel front facing camera sits atop the display. Meanwhile, the rear is home to its 5-megapixel camera with LED flash and speakerphone notch. Underneath the rear casing, we gain access to its dual-SIM and microSD slots.
Display
When you're expected to sport an amazing low price point, it shouldn't be a shocker to find that the display in the Nokia XL isn't going to be specs conscious. Featuring a 5-inch 480 x 800 (WVGA) IPS display, it's surely not the sharpest thing in its class, but it doesn't need to be. Details might be spotty when it comes to fine text and whatnot, but for the majority of other things, it shouldn't really pose a problem.
Viewing angles are okay, with some distortion at wide angles – while colors appear a bit subdued in tone. Furthermore, it attracts fingerprints and smudges like no other, which is made worse knowing that it requires a fair amount of scrubbing to remove. At the end of the day, we're not too conscious with the low end specs.
Interface and functionality
This is where things become juicy, as the Nokia XL is running Android underneath it all. Looking at it, there are several elements in play with the experience that borrow from both Windows Phone and typical Android – albeit, its universal search function appears to be iOS-like. At the core of it all, the experience, which is based on the Android Open Source Project, is a straightforward one that focuses on simplicity above all else.
The homescreen is very Windows Phone-like, since it consists of static tiles that can be rearranged and resized to our liking. Swiping down from the top bezel of the UI at any time grants us access to a familiar connectivity and notifications tray – while swiping left/right from the main homescreen takes us to the "Fast Lane," which appears to be an aggregation of the most recently used apps and features.
Visually, the UI is an interesting take considering that it's Android underneath it all. At the same time, though, the experience isn't very much Android-like. To be more exact, Nokia has replaced several of the popular services that we get with Android, like Gmail, and instead switched them with many of the stuff from Microsoft's portfolio (think Skype and its new OneDrive). Of course, that decision will impact those hardcore Google users, but for those who aren't invested in it, the switch shouldn't pose a problem.
Another thing worth mentioning is the way Android apps will be downloaded. Indeed, Nokia will have its own store where users can download and install some popular apps, but it's really comforting to know that others can be side-loaded as well via its microSD card slot and file managing app.
Ultimately, we're curious to see how Nokia will improve and define its take on Android. Of course, there are several players in the space that have a tight grip with the experience, especially Google's own stock experience, but this venture looks promising. With so many things for them to cover, we're at least hopeful with the promising outlook of this new venture for Nokia.
Processor and memory
Glancing over the handset, its dual-core 1GHz Qualcomm Snapdragon processor with 768MB of RAM doesn't seem intimidating in the face of today's quad-cores, but regardless of that, it's enough to power the Nokia XL with little or few issues. Generally speaking, basic operations are executed in a decent manner – with buttery movements seen with things like kinetic scrolling in the homscreen.
In terms of storage, the Nokia XL boasts a paltry 4GB of memory, which again isn't something spectacular, but at least it can be supplemented thanks to the availability of a microSD card slot.
Camera
The high-end Lumia line is still known for some of its camera centric smartphones, but the lower spec'd Nokia XL doesn't have anything too peculiar. Instead, it's armed with a 5-megapixel rear auto-focus camera with a ¼ inch sensor, f2.8 aperture lens, and an LED flash. For what it's worth, we're not having any high expectations with the results – albeit, we'll wait to pass judgment until we see its final results. Around the front, there's nothing more than a 2-megapixel count camera, which is the standard fanfare when you think about it.
Expectations
Smartphones with 5-inch displays tend to be that perfect size for becoming flagships, but in this particular case, it's nowhere remotely close in achieving that status. Nevertheless, we can't forget to mention its amazing price of €109 ($150) when it launches sometime in Q2 2014 in emerging markets overseas. Sorry US folks, there isn't word on whether we'll see this one land stateside. Price alone is a huge value for the Nokia XL, especially when it's a dual-SIM smartphone too!
We're going to keep a close eye on how the Nokia XL pans out, seeing that its success is contingent on how well consumers adopt it – more so with its customized Android experience than anything else. That appears to be the biggest hurdle for this device! To reiterate, it's a promising venture for Nokia and we're excited to see how things develop over time with the smartphone.