Nokia World 2011: Live Coverage!
10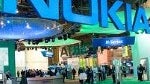 Welcome to our liveblog covering the opening keynote of Nokia World 2011, featuring CEO Stephen Elop. We're quite excited because the still largest phone manufacturer by volume is expected to finally unveil its first Windows Phone-based smartphones. As a matter of fact, the very first leaks prior to the beginning of the event have started, hinting that we might see a total of three new Windows Phones - the
Nokia Lumia 800, Lumia 710 and 900
. Whether that would be the case, remains to be seen. Who knows, there may be even more in store for us!
Stay tuned for all the details, as the event starts at 4AM eastern, 3AM central, 1 AM pacific time, or 9AM GMT. You can follow our live updates here, or via our special Twitter channel -
@PhoneArenaLive
.