Nokia NAVTEQ maps come to Windows Phone 8 with offline support
10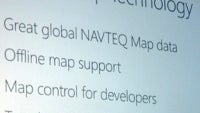 Windows Phone 8
's main phone partner Nokia is not just there for the hardware and brilliant designs - it's also bringing its NAVTEQ maps expertise and that's great news for the platform users.
Nokia Map Technology will be what powers WP8 maps and this will translate into the platform suddenly becoming one of the best positioned operating systems in terms of geolocation services.
Nokia Maps brings offline support for a huge number of countries, map control for developers and turn-by-turn directions.
Now, on one side that's great for the platform, but on the other Nokia is losing the exclusivity it had with its Lumia maps. Either way, though, the user is only benefitting from this move, so there you have it - Nokia Maps is now officially the engine powering Microsoft's WP8 mapping solution.
source: Microsoft