Nokia N9 upcoming update to bring video conferencing, folders a la iOS
5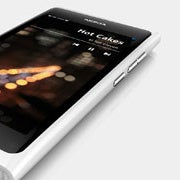 Nokia has pleasantly surprised us by delivering timely updates to its Nokia N9 one and only MeeGo device, and
another major update, PR 1.2
is on the way. The update will enable the front facing camera and will let you use it to video call your friends. It also adds folders working in iOS-like fashion, support for copy-paste in the browser and other enhancements.
MeeGo 1.2 Harmattan is definitely a more refined version and adds a needed coat of polish to the otherwise very innovative Swipe UI. Some of the new features like the folders one might spark controversy over how new they are when compared with other operating systems, but they're a welcome addition anyway. The camera application and the gallery have also been reworked.
There's no information on the
PR1.2 release date
, but judging from the build version mentioning January 30th, 2012, we could expect around the end of January. And in the meantime - feel free to check out the screenshots to get an idea about the new looks of MeeGo on your N9.