Nokia N1 vs Nexus 9: in-depth specs comparison
21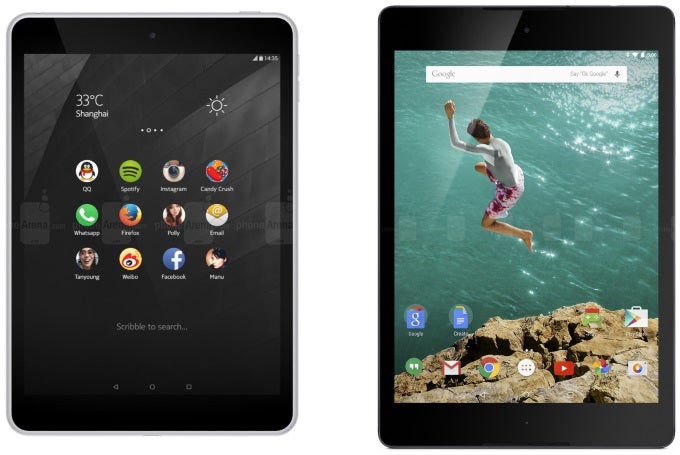 It was only yesterday when we wrote about how the Nokia N1, the Finns' excellent come-back product, is about to brawl with the Google Nexus 9 for attention like only the iPad Air Mini 3 can. We felt it was worth putting the two against each other in an in-depth specs comparison before the battle transcends the Internet and becomes a market reality.
Design
On the surface, the two tablets seem remarkably similar, but they have significant differences. While the two share almost identical front panels, back panels, button and camera placements, the HTC-made Nexus 9 is built from plastic, while the Nokia N1 is carved from aluminum. Although it is marketed and priced as a premium device, the Google Nexus 9's build quality left something to be desired - the plastic feels cheap and gives in when the tab's back panel is pushed. Being an aluminum tablet, the Nokia N1 should be free of any "soft material" problems, and provide a (literally) more solid feel.
Google Nexus 9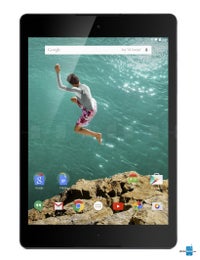 The design similarities end here. The Nexus 9 has a bigger display - 8.9 inches in diagonal - while the Nokia N1's display measures 7.9 inches in diagonal. Hence, the former is bigger as a whole, measuring 8.99 x 6.05 x 0.31 inches (228.25 x 153.68 x 7.95 mm) at a weight of 15.38 oz (436 g). The Nokia N1 is a more compact 7.90 x 5.46 x 0.27 inches (200.7 x 138.6 x 6.9 mm), at a weight of 11.22 oz (318 g). Both tablets are sized very appropriately considering their screen sizes and hardware specs. But it goes without question which one is easier on your arms and backpack. Which one is prettier, though, depends on personal taste.
Nokia N1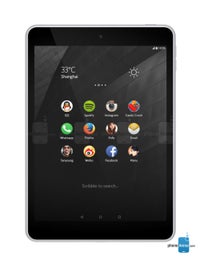 Display
Both tablets have a lot to offer in the display apartment. We mean, a lot. They boast 1526 x 2048 resolution IPS LCD displays with excellent
pixel
densities - 288ppi for the Nexus 9's 8.9-inch screen, and 324 ppi for the Nokia N1's 7.9-inch panel. Both are covered with Gorilla Glass 3 for scratch protection, but the Nokia N1 has the advantage of a fully laminated, zero air gap display. It's mostly an appearance advantage, but one can't possibly deny how good it looks in an unibody design - truly seamless! We can't compare the two screens directly, but the Nokia N1 will have to do a lot to match or best the Nexus 9's characteristics - potent brightness, excellent gamma, and great color temperature.
Interface
The Nexus 9 and its Nexus relatives is Google's way of saying "This is the pinnacle of Android at this point in time." That's why the tablet runs on nothing but pure, unadulterated Android 5.0 Lollipop. A smart choice, because the Nexus 9's big, sharp, and color-accurate display is the finest venue to experience the authentic Material Design right now. While using Android isn't fundamentally different, the elaborate, cohesive design language makes it feel new again. Neon colors and surrealistic animations, begone. For its animations, Material Design follows the organic principles of how material objects interact with each other, while the visual aesthetic is modelled after print pages. While it may look flat, the interface is anything but. Menus, app panels, even buttons move like pieces of paper, arranged and stacked together on a flat surface, lit by the sun. Big white spaces, bold colors, and refined typography make using the Nexus 9 feel like reading a magazine come alive. That's just scratching the surface, though. Under the hood, Android 5.0 features a new real-time, 64-bit compliant compiler, battery optimization techniques, new multimedia libraries and APIs, and more good stuff. It's huge Android release and a milestone in the operating system's evolution.


Sorry, did we get carried away? Actually, no, because all of the above holds true for the Nokia N1 as well. The tablet is powered by the same Android version and has all these features, but it deals a different vision of how the user interface should work in the form of Z Launcher. Nokia made a wonderful move by making its custom user experience a launcher you can freely remove and enjoy Android 5.0 the way it is. But before you do that, you should give Z Launcher a try. Nokia describes it as "the fastest way to access everything on your phone". Visually, it's a thing of minimalistic beauty that resulted from lessons learned with Windows Phone. Instead of Live Tiles, though, you'll be treated to a launcher that learns from your usage habits and starts to automatically serve you a selection of up to six apps and contacts that you usually reach out for at a given time of the day. You can also "scribble" signs and letters on the screen with your fingers, activating certain features. Nokia has an interesting concept in its hands, but we'll have to see if it's actually any good.
Processor and memory
Google and Nokia both headed straight to the flagship category this year, which explains why the Nexus 9 and the Nokia N1 employ some of this year's best hardware. The Google-HTC creation sports NVIDIA's hot-shot Tegra K1 64-bit chipset, a dual-core 2.3GHz solution made on a 28nm process, paired with the Kepler DX1 graphics unit and 2GB of RAM. The SoC offers excellent performance, OpenGL 4.4 and DirectX 11 support, CUDA and OpenCL - technologies that make console quality graphics possible in portable devices. There are 32GB of built-in storage, which isn't user-expandable.
On the other hand, Nokia made do with an Intel Atom Z3580 (Moorefield) 2.3GHz quad-core 64-Bit processor. Manufactured on a 22nm process, the chip is paired with a PowerVR G6430 GPU (same as in the iPhone 5s) and 2GB of RAM. This combination should, at the very least, much the Tegra K1 in performance, and it has the potential to be more battery-efficient due to the smaller transistor size. As for the graphics unit, the selection of games available in the Apple App Store today raises little doubt about what the chip can pull off, despite being a year old at this point. The tablet has 32GB of non-expandable storage.
Camera
Both tablets come with 8-megapixel autofocus main cameras on their rear panels, but only the Nexus 9 has a LED flash to partner with it. The Nokia N1 makes up for that by having a better, 5-megapixel front camera against the Nexus 9's 1.6MP front snapper. Both tablets shoot 1080p video at 60 frames per second. The Nexus 9 tab takes advantage of the Google Camera app, which offers a simple interface, lens blur, Photo Sphere, panoramas, Android Wear support, HDR+, and more. If there's anything special about the Nokia N1's camera, Nokia is yet to tell us. But it's the company that made PureView and Lumia Camera, so our bar for expectations is set pretty high. Hopefully, there's no room for disappointment.
Battery Life

Tablets leave plenty of room to fit a respectable battery in, and manufacturers happily take advantage. That's why the Nexus 9 comes with a 6700mAh unit that lasts a day and a half of power usage, according to our John V. The same battery also produced a very impressive result of 9 hours and 24 minutes in our standardized battery test. Hopefully, this gives you a good idea of what to expect from the Nexus 9's battery life.

As for the Nokia N1, it comes with a smaller, 5300mAh unit, and the battery life hasn't been rated by Nokia, so we don't really know what to expect - other than a decent work time, at worst.


Expectations

Although the Nexus 9 has a bigger screen that's also brilliant, along with the rest of its commendable hardware, the Nokia N1 seems better built, equally capable, and most importantly (in this case) it costs nearly half the price. We see the Nokia tab as a very successful seller that has very good chances to outperform the Nexus 9 on the market. Which leads us to a rather questionable moment. The Nokia N1 is set to launch in China first, come early 2015. As you might know already, the N1 is a product that Chinese electronics manufacturing powerhouse Foxconn licensed from Nokia, which means it is solely responsible for producing and selling it while paying the Finns a nice chunk of royalties. So it really is up to Foxconn to push the tablet to other countries, be it through carriers, retail, or an online store. Hopefully, this won't break the N1's chances to get the attention it deserves.