Nokia Lumia 920 training videos for AT&T leak, exclusive for 6 months
19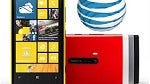 The gears are turning at AT&T as the carrier prepares to launch the
Nokia Lumia 920
exclusively in the US. Representatives are receiving training and getting familiar with the features and selling points of the device.
A few training videos have leaked as a result and it is there that we learn that AT&T's exclusivity with the Lumia 920 is for six months. The guys at wpcentral believes this is not a game killer for other carriers though. Citing observations of Nokia's partnering with carriers and providing specifically configured devices for them, such as T-Mobile getting the
Lumia 810
and Verizon
possibly
getting the
Lumia 822
, the guys at wpcentral think that this exclusive deal for the 920 and AT&T would not stop Nokia from providing a Lumia 9xx to another carrier. If that provides a glimmer of hope for you and your carrier, then by all means run with it.
The first video provides a general overview and specifications. The second video highlights the wireless charging and the JBL Power-up wireless charging speaker. The last video takes a look at City Lens' augmented reality along with Tap and Share. In addition to the videos, there have been rumors that there may be an
announcement of pricing and availability on Sunday, October 21st
.
So, are you sold? Will you be visiting AT&T and placing an order for the Lumia 920?
source:
wpcentral