Nokia Lumia 920 official hands-on video arrives straight from the source
21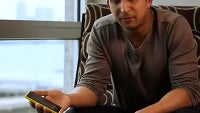 The Nokia Lumia 920 is finally official and the very first hands on video coming straight from the source has surfaced. In it, Nokia explores the great PureView camera with "floating lens" technology for great image stabilization and low light performance.
But that's not the only innovation in the Lumia 920. The flagship Nokia Windows Phone 8 smartphone features a gorgeous 4.5-inch screen that's extremely responsive to touch and you can operate it with your keys and even with gloves on.
Also, Nokia has integrated Qi wireless charging into the smartphone so you can use a wide range of accessories to get rid of cables and juice up your phone wirelessly. Check out the short official hands on video below and stay tuned for our very own hands-on time showing you how the Lumia 920 performs in real life.
source: Nokia