Nokia Lumia 825 with PureMotion screen supposedly coming next year
15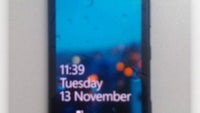 Man, those Lumias just keep on coming! This time we're looking at a smartphone referred to as the Nokia Lumia 825, which surfaced in China. As you might expect, the handset is quite similar to the
Nokia Lumia 820
, with Windows Phone 8 and all, but it actually comes with several noteworthy improvements.
The one you should probably be most excited about is that the screen on
the Nokia Lumia 825 will be carrying the PureMotion branding
attached to it, according to the source. In other words, the display should have outstanding outdoor visibility, short pixel response time, and might even be usable while wearing gloves, just as if you were using the
Nokia Lumia 920
flagship. For further details, you can check out our guide as to
what the Nokia PureMotion technology is
.
But that's not all. If the source of this leak is to be trusted, the Nokia Lumia 825 will also have more native storage than the Lumia 820 –
16GB
versus the 8 gigs on the latter. The remainder of the smartphone's specs are reportedly identical, from the dual-core Snapdragon S4 processor and the WVGA resolution of the 4.3-inch screen to the 1GB of RAM and the 8-megapixel camera with Carl Zeiss optics and LED flash.
The Nokia Lumia 825 is supposedly coming in late February of next year, and there is no word regarding its market availability. It might be a model tailored for the needs of the Chinese market, or it could be a carrier-specific device, much like the
Nokia Lumia 505 that launched in Mexico
.