Nokia Lumia 800 buried in ice, challenges you to dig it out
8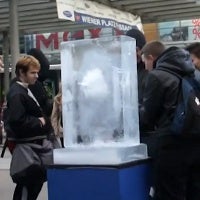 The
Nokia Lumia 800
is supposed to bring the best out of Nokia and Windows Phone, and it's certainly an impressive handset with a neat polycarbonate body and design. It takes a massive marketing campaign to elevate it to higher highs though and it all started in London with a massive show featuring DJ deadmau5. Now, it continues in Germany where the Nokia Lumia 800 (or actually a mockup of it) has been
frozen
in huge ice blocks displayed on central streets. The challenge is to break the ice to get to the handset and if you succeed you get what you've dug, but also get a real brand new and supposedly never frozen Nokia Lumia 800.
The crowds were of course there and everyone had a different method for breaking the ice ranging from melting it to punching it to hammering it down.
Check out the video below to see how it all ended up and who was the most effective in breaking the ice. Would you have participated as well? Is the Nokia Lumia 800 worth it? Let us know your thoughts in the comments below.