Nokia E7 delayed for early 2011, camera samples leaked again
8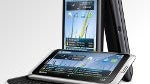 The upcoming Nokia E7 is now officially delayed from its
December
launch and pushed back to the vague "
early 2011
" as the Finnish company itself confirmed. "To ensure the best possible user experience on the E7 we have decided to begin shipping in early 2011," a spokesman for Nokia explained.
Rumor
had it
that the handset will be delayed, but no official confirmation from Nokia supported the claims. This year is marked with delays for Espoo as its current flagship, the Nokia N8, also came out later than expected.
At the same time more leaked samples of the
Nokia E7
camera confirm that it comes with
full focus
, which basically means no auto-focus. Nokia claims that there is some innovative technology like aspherical lenses and better image processing behind this, but it sparked controversy.
Previously leaked pictures
as well as the pictures below leaked on Flickr illustrate the technology brilliantly.
You probably know that cameras in cell phones usually come with auto-focusing capabilities on board. The
Nokia N8
from the Symbian lineup has it, and most other high-end phones you can imagine have it too. The Nokia E7 however, just like the C7, comes with the so-called full focus camera. It is supposed to bring blurriness out of the picture for all objects shot from at
least a 50cm
(20 inches) distance.
Wait, what about close-ups? The answer Nokia gives about this is
blurry
, just as the close-up pictures you are going to end up on your full focus device. For us that seems a bit like a
downgrade
to auto-focus and much like the very familiar fixed focus. Nokia, on its part, argues that with full focus camera you get much less of a lag, hence better spontaneous shots. Check out the pictures below shot in sunny Australia (notice the blur when the object is closer) and let us know what you think about the delay of the E7 and its controversial full focus camera.
source:
Engadget
and
The Nokia Blog