Nokia Chat for Lumia smartphones launched in beta form
11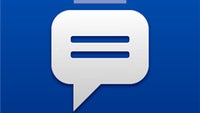 Nokia Chat – an instant messaging application that has been available for a while on Asha, Symbian and even Series 40 based devices, is now making its Windows Phone 8 debut. Well, kind of. This Lumia-exclusive app is out in beta form for those early birds eager to give it a try.
With Nokia Chat one can get in touch with other users of the app, but it also offers Yahoo! Messenger support for those 6 people still using the latter. Both push notifications and live tile updates are enabled in the beta, in addition to a bunch of handy features, such as location sharing and broadcasting. What's more is that Nokia Chat is smart enough to tell which ones among your contacts are also using the client. There are several extras thrown in for Windows Phone 8 users as well. These include voice commands, voice-to-text input, and lock screen notifications.
But before you hit that source link, note that Nokia Chat beta is not available in all countries. Currently, only users in the United States, United Kingdom, India, Canada, Australia, New Zealand, South Africa, or Nigeria can take the messaging client for a spin. Yet rest assured that more countries will be added to the list in the future.
Recommended Stories