Nokia CEO says devices in "different shapes, sizes and configurations" will be succeeding the Lumia 900
16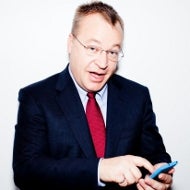 Speaking at an interview, Nokia's CEO Stephen Elop had some interesting tidbits to disclose about Nokia going forward with Windows Phone this year. He said that owners of the
Nokia Lumia 800
shouldn't feel sketchy about the LTE-enabled 4.3"
Lumia 900
that is about to appear as an AT&T exclusive handset.
The Finnish giant's strategy with WP devices is to target different markets with different tailored propositions, depending on what it deems necessary for that market. In Europe, he said, LTE will play increasingly important role, but hasn't started to catch up yet the way it has in the US, so the Lumia 900 with LTE was first released for AT&T.
He mentioned, however, that Nokia has a deep bench for 2012, working on "
successor devices
" after the Lumia 900, phones with "d
ifferent shapes, sizes, [and] different configurations, of course.
...
There is a lot more to watch
."
Apparently the strategy is to keep the excitement going, announcing devices at short and steady intervals, until a whole portfolio range of Nokia Windows Phones is released by year-end. On popularizing the platform he says:
Our primary challenge is to make sure that a consumer is aware of the products, understands how the user experience with the Live Tiles works and everything that makes Windows Phone what it is. We have to help them understand that and we have to get the devices in their hands. Everything we are doing is focused on reducing the friction in that process.
"The point is, we are educating consumers about the tiles, about that experience, because what is out there in the industry today, people are most familiar with, is a grid of applications and icons that don't do anything. They aren't used to things that are scrolling, that are alive, that are presenting information. So as we introduce them to that, we are confident then that we will see some good momentum. But it is still very early days...
Our first priority, always, always, is to differentiate our experience from Android and iPhone. That is job one, two and three quite frankly.
We also learn a new thing about Nokia's Stephen Elop - turns out he is a pilot, and would like to see more airplane-related aps in the Marketplace, although well aware that not everybody shares this passion, and there are more pressing apps to populate the Marketplace with at the moment.
source:
Pocket-lint