Nokia C6 is actually a Nokia Nuron with a landscape QWERTY?
This article contains unofficial information.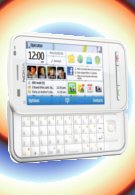 With US consumers soon getting a taste of a carrier branded Nokia touchscreen phone in the Nokia Nuron 5230 for T-Mobile, the Nokia C6 that's been rumored for a while may have a lot in common with the upcoming Nuron. Tom's Guide recently posted a picture that they believe to be the Nokia C6 – it does look to have the same outlining which we saw in the
FCC filing
not too long ago. The Nokia C6 will look similar to the Nokia Nuron except for the noticeable landscape QWERTY keyboard it'll be packing along. Naturally the C-series will being categorized as the mid-range offerings from Nokia – which the C6 would easily supplant itself when you consider its specs when pitted against something like the N97. Accompanying a handset like this will probably be an equally affordable price tag once its speculated European target release date of this summer does come to fruition. In the mean time though, US consumers can look forward to checking out Nokia's offering with the Nuron – future owners can just imagine a QWERTY tacked onto it so they can get an idea of what to expect with the C6.
source:
Tom's Guide
via
Engadget