Nokia C2-06 dual-SIM slider leaks out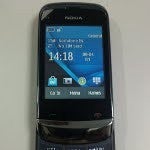 An early prototype of the Nokia C2-06was spotted in the wilds of India and from the looks of it, Nokiawill grace the market with a dual-SIM card slider with acompact body. The portrait slider falls into Nokia's C series andseems to run a touch-optimized version of Symbian (looking likeSeries 40 if you ask us), while also having a traditional numerickeypad. Even though it's only maked as a prototype(C0-00) on the outside, in the Bluetooth menu you can see the C2-06 model number.
The handset is rumored to come with aresistive touchscreen, a 2-megapixel camera, Bluetooth and a microUSBport, but with no Wi-Fi or 3G support, all of which hint at abudget-centric device. That's about all the details we have so far, and we're not even convinced that the handset will hit WesternEuropean/American markets, as dual-SIM handsets thrive in Asiancountries, but aren't usually warmly accepted by Western carriers.But while we wait for more information to show up, let us know if youfeel that the low price can lure you into buying such a handset.
source: Hackintoshvia Fonearena