No, you don't need to turn the Sharp Aquos Crystal around to take a phone call
30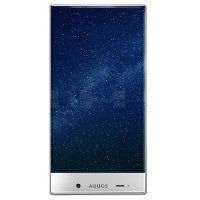 For those among us that were not aware of the way Sharp makes smartphones, the Aquos Crystal was quite unsettling at first. We remember when we first started paying attention to the company's outland-ish, bezel-less phones some time ago -- they looked like something straight out of a Sci-Fi flick.
Now, whether you'll end up liking the Sprint-bound Aquos Crystal is a matter of taste. Our observations so far are that people either downright love the design, or outright reject it. Either way, it's undeniable that Sharp is creating intriguing hardware, but we noticed that quite some people were worried about the practicality of it.
Unsurprisingly, top on that list is one simple question: "Where the heck is the earpiece?!". That's understandable, for the Crystal appears to have skipped on such an essential piece of hardware. In fact, so big is the confusion, that many thought that what is actually the loudspeaker on the bottom is really the earpiece, and that you'll have to turn around the entire phone in order to take calls. The answer, however, is different.
See, the Aquos Crystal really doesn't have an earpiece on the top like pretty much every other phone on the planet. But you won't have to turn it around to pick up a call. Instead, the company is using a direct wave receiver which actually vibrates the entire screen in order to create sound, a bit like bone conduction headphones (e.g. Google Glass).
One pro for that approach (apart from untying the hands of the design and engineering teams) that Sharp is fond of bringing up is that it doesn't matter where you place your ear, so long as it is on the screen. Regardless, we can't help but wonder about call quality. What's more, seeing as the proximity sensor is located on the bottom, the Crystal's software is basically forced to lock the screen during calls to prevent misclicks, and we still don't know how well that will work in the long run. But, hey, those are questions that will be answered another day. For now, just relax knowing that you won't look a fool whenever talking on the Crystal.