No more Windows Mobile for Sony Ericsson?
This article contains unofficial information.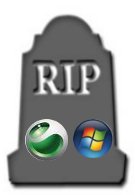 The time has finally arrived as Windows Mobile's adventure with Sony Ericsson has come to a complete halt – there will unfortunately won't be any additional development on the aging mobile platform.
After releasing the MR1 firmware update
for the Sony Ericsson X2, it was expected to fix a myriad of problems and hoped to be the last thing to grace the Windows Mobile handset. Some owners found it to be unstable and were looking forward to the prospect of Sony Ericsson releasing an MR2 update down the road. Now it looks unlikely that it'll happen after their notion to move forward with the Android powered Sony Ericsson X10 and cease all development on Windows Mobile – they intend to devote more attention and man power to the rising platform. Plus they go on to say how the X2 is already at a high level of functionality and that continuing with it could become financially stressful. Hopefully this move will ultimately provide some focus to Sony Ericsson's attention so they can offer users the best level of experience for their Android offerings. Sadly, Windows Mobile has been passed on and owners of current handsets are left to fend for themselves.
source:
Eldar Murtazin's LiveJournal
(translated)