No money for the Galaxy S6? A perfect $110 clone lands today as the Landvo S6
35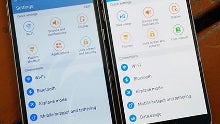 It looks like the
Galaxy S6
, is metallic like the S6, and is even TouchWiz-ed like the Galaxy S6, but what is it that makes it cost only $110? Well, the Landvo S6 is just a clone, albeit a pretty close one, to Samsung's venerable flagship.
How close? For starters, it features the same design paradigm as the S6, complete with the camera placement, rounded metal edges, that supposedly took Landvo 111 minutes to polish, and a 16 MP rear/5 MP frontal camera duo, just like on the S6.
When we dive into the specs, though, the difference becomes rather drastic. Landvo omits the "Q" in the S6's display resolution title, and has equipped its own creation with a 5.1" 720p display only. Moreover, the blazing fast Exynos 7420 has given way to a lowly MediaTek MT6582 processor, coupled with just 1 GB of RAM and 16 GB of internal storage. There is also a 2550 mAh battery, dual SIM card slots, and the obligatory Android 5.0 Lollipop onboard.
The kicker, however, is that Landvo still claims its S6 clone has a "heart beat test" and "eye-recognition" features, and there's not much more you can ask from its phone for the low price of just $110. Any takers?