No extra SIM slot? Use up to six phone numbers on your iPhone or Android with Flyp
8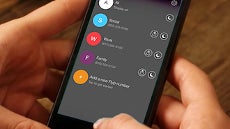 Android users are
blessed with many excellent dual- and even triple-SIM phones
, which are immensely popular throughout Asia, and are rising in market share in the developed world, too. Apple? Well, we are still to dream about a dual SIM handset from it, so what can you do if you have an iPhone, or a single-SIM Android, but want to use more than one phone number from the same phone?
A Flyp app comes to the rescue, allowing your phone to manage multiple phone numbers, dial and get calls, or send and receive texts from them individually on the same handset, and even record separate voicemail messages for each number. The catch? Each additional number is $2.99 per month, or $29.99 for a year. For that price, you can set one for friends and family, and one for work, for instance, choose separate area codes for each, if you so desire, import individual sets of contacts, and so on.
Flyp promises call quality equal to your current number for each identity, and its added value in terms of communication management is that all calls, texts and even voicemails done through each number, are presented in a common uninterrupted thread, so you don't have to switch between apps for calling and apps for texting.
| | |
| --- | --- |
| Developer: Flypsi Inc. | Download: Android, iOS |
| Category: Utilities | Price: Free, monthly or yearly number subscriptions |