No custom ROMs on the Motorola DROID X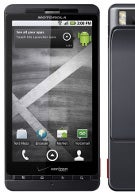 It seems like the Motorola DROID will stay the only company device with unlocked bootloader that gained huge popularity in the hacking community due to its ability to welcome custom ROMs. The non-US Motorola Milestone was the first to stir controversy with a digitally signed bootlader that made it very difficult (but not impossible) to replace the software that the company shipped the phone with.
It looks like the DROID X and DROID 2 will follow in the Milestone's footsteps with locked bootloaders. The company had said before that leaving the bootloader on the original DROID unlocked was a business decision, and again for business reasons they locked all the rest of its smartphones.
The DROID was a major bet for both Motorola and Verizon, so they wanted it as popular and flexible as possible. Whether installing other ROMs on it was due to exploited omission on Motorola's part or "business reasons", the practice only contributed to its immense popularity until it became the best selling Android device.
Motorola DROID X Specifications
|
Review
Motorola DROID 2 Specifications
Motorola DROID Specifications
|
Review
source:
AndroidandMe