No, Samsung did not pay Apple $1 billion in five cent coins
35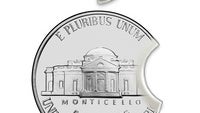 Several days ago,
Apple scored a major legal victory against Samsung
, which is why the Korean company now owes $1.05 billion to Cupertino. And obviously, the money has not been transferred yet since
Samsung intends to appeal
the judge's decision. Therefore, as hilarious as it may seem, Samsung did not really pay Apple its humongous fine with 30 truckloads of five cent coins, in contrast to what is claimed by some well-tailored story that is now circulating the web.
The story, according to which Samsung sent 30 trucks full of nickels to Apple's office in California, is a hoax that can be traced back to a meme originally posted on
9gag
. Sure, it would have been hilarious if it were true, but there is no way for that to have happened. You see, doing so would have required 21 billion five cent coins to have been collected, which is more nickels than there are currently in circulation in the U.S. And if that is not enough, since each coin weighs 5 grams, their total weight would have been over 100,000 tons. Needless to say, it would have taken far more than 30 trucks for that cargo to be delivered.
So yeah, it is a cool trolling story, yet a fake one nonetheless. Or as Abraham Lincoln once put it:
"Don't believe everything that you read on the internet."
Recommended Stories