Nintendo "thinking about a new business structure" that might include mobile games
30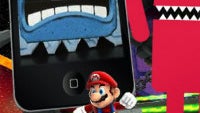 In case you hadn't heard, Nintendo was recently forced to admit that the Wii U has been a failure. The company announced a projected 25 billion yen (~$240 million) annual loss because of low demand for its new hardware, and that has led Nintendo's president to make an even more surprising announcement that the company is "thinking about a new business structure" that could include making games for smartphones and tablets.
Nintendo's revised projections led to a drastic cut in production of consoles and games; and, in a press conference in Osaka today, president Satoru Iwata said:
We are thinking about a new business structure. Given the expansion of smart devices, we are naturally studying how smart devices can be used to grow the game-player business. It's not as simple as enabling Mario to move on a smartphone.
Many would argue that it is actually "as simple as enabling Mario to move on a smartphone" since the company has been pressured by investors for years to release games on iOS and Android, but Nintendo obviously wants to be cautious with this pivot. SEGA had a bit of trouble when it first decided to abandon hardware and focus solely on software after the disappointment of the SEGA Dreamcast (sales disappointment that is, we still have our DC and play it regularly. Power Stone 2, Jet Set Radio, or Shenmue anyone?)
Of course, it isn't even certain that Nintendo would become a software developer only. The company has been looking into building its own branded
Android tablet
for educational games, and the Nintendo 3DS/2DS are selling extremely well. So, building more mobile hardware isn't out of the question, but at the very least, Nintendo's future in your living room is uncertain.