Nintendo reportedly working on an Android tablet... for educational games
10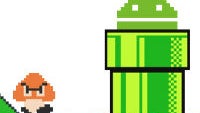 There has been talk for a long time connecting Nintendo and mobile devices, although most of that has come from Nintendo investors who believe that the company is in trouble if it doesn't end its proprietary hardware strategy and start publishing games on Android and iOS. It doesn't look like the company is going to take that path just yet, but rumors are saying that it will be pushing into mobile.
There are rumors that Nintendo is in the process of testing its own tablet that will be based on Android, although it will be completely customized. Unfortunately, you won't be able to play Mario, Zelda, Metroid, Smash Bros, or any other of the flagship Nintendo titles that you want to. Instead, the word is that the tablet will be targeted at the educational market, but the games may feature the famous characters. So, if you're okay with Super Mario Algebra instead of Super Mario Galaxy Tab (unlikely name #1 for a mobile Mario game), maybe you'll like this device.
This news is according to Nintendo of America software engineer Nando Monterazo, who let the info out on Twitter. Nintendo never comments on rumors, so there's no way to confirm this, but it seems pretty legitimate if a Nintendo software engineer is tweeting about it (although the tweets have already been deleted). That means this is all the info that exists, no word on specs, dates, or pricing.