Nintendo smartphone app gameplay details emerge for upcoming mobile titles
7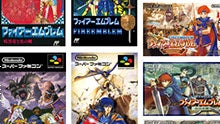 Underwhelmed by the lack of capital-g gameplay in
Miitomo, Nintendo's first big mobile-app release
? You're not alone, but last week we got some promising news for fans craving some meatier gaming action, with
word that Fire Emblem and Animal Crossing were on their way to smartphones
. At least, there was a lot of potential here – but would we get full-blown games, or something more in the line of companion apps? We're far from knowing everything, but Nintendo's confirmed some new details that sound all sorts of promising.
An English translation of a session following Nintendo's latest financial report offers an outline of some of the company's strategy for the next year, including the release of Fire Emblem and Animal Crossing apps. After reiterating his company's desire to create new mobile experiences, and not just port existing games to smartphones, Nintendo president Tatsumi Kimishima gave us a brief taste of what to expect.
"Compared to Miitomo, they have more prominent game elements"
For Fire Emblem, Kimishima explains that the gameplay won't be a direct copy of what we see on the company's dedicated gaming consoles, and instead will offer a more "accessible style" of play that's appropriate for mobile devices. And lest you think that means something really dumbed-down, he goes on to clarify, "we still aim to provide a fully engaging experience as a role-playing simulation game."
Details on the Animal Crossing app are a little looser, but like Fire Emblem we're told to expect "a new style of play" than fans of the series are used to. While Kimishima didn't elaborate much past that, his emphasis on "play" helps reinforce that we're talking about a proper smartphone game, and not merely an app that will let you keep up to date with your Animal Crossing progress on a dedicated Nintendo system.
And if you're still not convinced, Kimishima outright called both of these titles "pure game applications," promising something markedly different from what we got with Miitomo.
Both the Fire Emblem and Animal Crossing apps are due to launch sometime this fall.
source:
Nintendo
via
Mobile Syrup
Recommended Stories