Nintendo head flatly denies iOS game development
22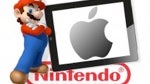 Disappointing sales of Nintendo's new handheld 3DS has been fueling speculation that, for the first time in history, Nintendo would break tradition and develop games for a platform that it did not create: iOS. The dream was a nice one, because iOS devices have a solid install base and are certainly successful in mobile gaming. And, of course, Nintendo games feed into the nostalgia of gamers world-wide. But, the dream will not be.
Investors had been pushing Nintendo to develop for other mobile systems, but Nintendo president Satoru Iwata said that the idea "is absolutely not under consideration". He went on to say, as you'd expect, that such a move would mean that Nintendo would no longer be the same company. This is true, but people seem to be split on the decision. Some say that Nintendo can't compete with 99 cent mobile games, but we're not so sure that's true.
Nintendo makes money on hardware, not just software like mobile game developers. And, on top of that, Nintendo 3DS games sell for up to $40 and DS games for as much as $30. Mobile gaming may be big, but there are still plenty of people willing to shell out $40 or more for handheld games. Given that there is an install base of about 150 million DS handhelds world-wide, it's likely that Nintendo will be just fine without breaking its model. Although ditching the headache-inducing 3D would be nice.