NinjaBlur providing invisible speed boost to Motorola DROID SHADOW/XTREME?
12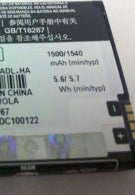 A recent benchmark test between the unannounced Motorola DROID SHADOW/XTREME (MB810) and a Froyo packin' Nexus One has some cellphone fanatics scratching their heads. In the test, conducted by a Howard Forums poster who is allegedly connected to Verizon, the DROID SHADOW/XTREME nearly beat the N-One. What makes this interesting is that the Motorola model is powered by Android
2.1
.So how could the MB810 come so close to the Nexus One-especially since, as we
reported
, Froyo is said by Google to increase the speed of an Android device by 3 to 5 times? The answer might have to do with the manufacturers new NinjaBlur system. The Verizon connected forum poster put up a message that rivals anything ever said by "The Riddler". He wrote, "I move silent like a "Ninja" and strike in a" Blur" of speed.Ninja Blur is Blur running without the user knowing. For those who don't like Blur." It would appear that NinjaBlur is a program like MotoBlur, but runs in the background for those who do not like the UI of the latter. But if that's the case, why run anything over the stock Android unless it speeds up the phone? An interesting mystery that should get cleared up soon. Not a mystery is the picture below of the battery for the DROID SHADOW/XTREME. As you can see, it is a 1500mAh cell that will power the MB810.
Motorola Droid Shadow Preliminary Specifications
source:
AlienBabelTech
,
HowardForums
via
Phandroid