Nice apps you got there! Microsoft makes porting Android and iOS apps to Windows easier
46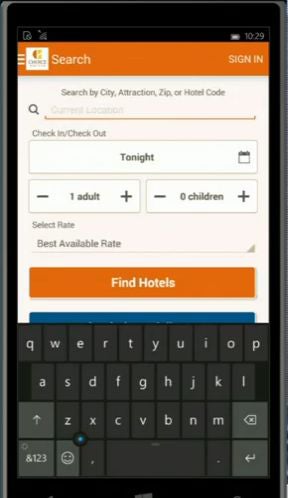 Choice Hotels app for Android running on Windows
Microsoft has long tried to convince us that there's no such thing as 'app gap' between its mobile OS and the leading duo, but has mostly failed thus far. And for a reason, seeing that — while many of the essentials have already been covered — there are still countless glaring omissions, and the store is not even close to its competitors as far as its total number of apps goes.
Realizing this problem, Microsoft has been hard at work devising an intricate plan, which is to help it populate its mobile app storefront way quicker than before. Here's what it's all about: a new technology developed by the Redmond giant will allow app developers to easily rework their Android or iOS apps so that they can work with Windows 10! There you have it - simple as that. Still, MS seems to have thought this trough: in addition to being able to reuse their Java and C++ code from Android, or Objective C from iOS, developers should find it easy to integrate their new Windows projects with any needed Windows-specific extensions and services, such as Windows' Location API, the virtual keyboard, or the on-screen navigation buttons, for example. Users and developers alike should be interested to know that reworked Android apps will be running in a safe Windows security container for maximum user data safety.
Porting iOS and Android apps to Windows has never been so easy
As a matter of fact, Microsoft has already been beta-testing this technology, noting that Candy Crush Saga developer King has utilized this new tool to bring its hit game to Windows Phone. And on stage at its Build dev conference, Microsoft demonstrated the Android Choice Hotels app working just fine on a Windows phone, an undertaking that allegedly took just some minor tweaks to get done.
Hopefully this new tech will help Microsoft finally close the gap between its app store and its iOS and Android competitors, but whether or not developers pick up on the idea, remains to be seen.
Recommended Stories