Niantic CEO Hanke talks about adding more Pokemon, Player v. Player battles and more
10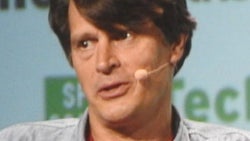 Pokemon Go has seen 80% of its paid users vanish
as though vaporized by a thunderbolt attack from Pikachu. But the CEO of game developer Niantic, John Hanke, has more up his sleeve than just his wrist. His task is not an easy one; it is harder to revive a mobile game with falling active user numbers than it is to survive a heart attack. Two words prove that:
Draw Something
.
Last week, Hanke spoke at
Disrupt
and pointed out the number of large markets where Pokemon Go has yet to launch officially. These areas include Russia, China, and parts of Asia and Africa. China alone could provide a brief spark for Niantic. The executive pointed out that due to the way the game exploded onto the scene, the company's plan to slowly market the game over months was compressed into
a two week period that broke all records
.
But what about the future? Hanke says that more Pokemon will be added to the game in order to keep it fresh. "It's always been the intent to gradually introduce more Pokémon into the experience over time," he said. "Some Pokémon are highly coveted and people are going to be really excited when they show up in the game."
Late last month, some Reddit users discovered code in the game that hinted at player vs. player battles, and trading capabilities. These are two of the most highly demanded features from Pokemon Go players. While Hanke didn't address trading, he did discuss the prospects of players battling other players. "Battling is something we talk a lot about," Hanke noted. "It'll probably make its way onto the road map, but I don't have a specific date."
"We've always looked at it a game that will develop over the next several years. We're releasing every two weeks. We got the minimum viable product into the marketplace, and that's the tip of the iceberg in terms of where we'll ultimately take the game. I think it'll change and evolve pretty substantially over the next few years."-John Hanke, CEO, Niantic
While the initial excitement of the Pokemon Go launch is now reduced to "a small but steady inflow of new users all the time," there are plenty of features that can be added to the game to keep it interesting, exciting and entertaining in the future. And with the social aspects of the game creating friendships, some that will last a lifetime, Pokemon Go fans shouldn't worry about the future of the game.
source:
VentureBeat