Nexus Q now gets a step-by-step teardown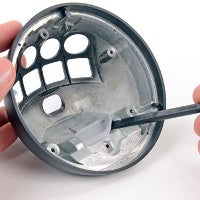 The
Nexus Q
media streaming device is a mysterious big black glowing ball. It looks solid - almost like it's fallen from outer space and that definitely makes us want to see what's inside this alien technology that Google designed and manufactured in the United States. We've already seen a quick teardown and all the internals of a Nexus Q, but this time we have the step by step instructions that will come in handy for all those that want to try and open this thing on their own.
Plus, you get to see all the neat internals of this thing come apart one by one, leaving the futuristic empty shell. What's particularly valuable in iFixit teardowns though is the
final repairability score
and for the Nexus Q it's an excellent 8 out of 10.
It shows just how easy it is to repair parts of it and make it work again. For the Nexus Q the obvious pluses are that you don't need any tools to remove the top, very few components are soldered to the main board and the whole teardown process is very straightforward. Some minor things that spoil this from getting a perfect repairability score is that everything is so tightly packed inside you might find it hard to replace a particular part and there are lots of elements so you have to be careful not to lose something. Check out the full teardown below.
source:
iFixit