Nexus 7 price slashed to $179.99, could this price cut come ahead of a new model?
7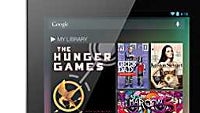 The
Google Nexus 7
has become the go-to tablet if you are looking for an affordable compact slate, and now, almost a year since its launch, it is becoming even cheaper. Staples has slashed the price of the 32GB Nexus 7 down to $199, and the 16 gig edition only costs $179.
The price cut seems like a good way to clear stock which is something that retailers would want to do ahead of the launch of a next generation Nexus 7 tablet. We have been hearing about a higher resolution display, a Qualcomm chip and the same rock solid battery life in the new Nexus 7, so it could be coming very soon.
Right now, the Nexus 7 offers a 1280 x 800-pixel LCD display and runs on a Tegra 3 quad-core processor with the latest Android 4.2.2 Jelly Bean on board.
Should you get it now? We would stick around a couple of more weeks as chances are the new Nexus tablet is coming at around the same low prices. If you choose to buy now, you definitely should not regret it, though, the tablet is a steal for the money.
source:
Android Police