Nexus 5X, Nexus 6P: here's what's in the retail box
29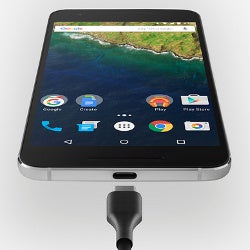 The new Nexus 5X and Nexus 6P are now finally official, and this means that their support pages at Google are also now available.
What these give us is some neat information about how the two new Nexus phones will ship and what will buyers find in the final retail box.
Keep in mind that pre-orders for the new handsets are now available, but shipping times have slipped to early November for most models (it was late October for the first to pre-order).
So after that long wait, what will you get in the box with your phone? Here is the official list:
Nexus phone
USB Type-C to Type-C cable
USB Type-C 15W (5V/3A) charger
SIM ejection tool
Quick start guide (not pictured)
Safety and Warranty information (not pictured)
What's notable is that - with the Nexus 5X - you get only a USB Type-C to Type-C cable, meaning that there will be no way for most people to connect their phones to a computer with a traditional USB port for syncing. That's a bit of a bummer - this would mean that most of us would need to buy a separate cable to connect the USB Type C phones to your desktop or laptop.
The Nexus 6P does have two cables: both a USB Type-C to Type-C AND a USB Type-C to Type-A, so no worries with the larger phone in the 2015 Nexus family.
We do, however, like the fact that there is a powerful, 15-watt charger in the box. Google has officially confirmed that the Nexus 6P charges fully - from 0% to 100% - in just 97 minutes, an hour and a half, and the first 45 minutes are especially fast.