Nexus 5: An exhaustive specs review
27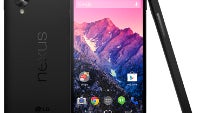 The Nexus 5 is now live, and many of you will be feverishly lining up behind your monitors, trying to reserve a piece. If the process is anything like last year, and you're eyeing the new Nexus phone, then you should probably head right over to one of the 10 regional Play Stores that should already have the device up for order. That's because the value proposition of the Nexus 5 is off the charts, considering the top notch hardware specs you get at such a bargain price.
Speaking of the specs...
Look at all the pixels!
As we've known for a while, the Nexus 5 comes with a 4.95-inch, 1080x1920 pixel IPS display. That one is actually equal to 445ppi, a smidgen higher than most conventional 5-inchers, like the Galaxy S4 and the Sony Xperia Z1, but hey – every extra bit counts when talking bragging rights. Regardless, it's more than likely that we'll be calling the new Nexus a 5-incher, just the same.

On a related note, touchscreen tech has been on our radars lately, and we're happy to see that the Nexus 5's display comes with an advanced in-cell touch technology, that the duo boasts will enable "faster touch recognition, better outdoor visibility and crisper images". In-cell technology is still fairly new, though it first debuted on devices like the LG Optimus G and the iPhone 5 (which has an LG-made display, too), and is now common with most Samsung-made AMOLEDs.
In-cell touch technology represents a few noteworthy advances. One of these is that it allows manufacturers to get rid of the digitizer altogether, by building the capacitors inside the display itself. This removes a rather bulky layer from the display assembly, making it thinner, not to mention that the reduction (about 1mm) means that a user gets the feeling of interacting with the screen in a more direct manner. In addition, the display stack also allows more light to flow through, meaning that battery consumption is lower.
User, meet muscle
There's little to be said about the Snapdragon 800 system-on-chip, and that's only because the performance of Qualcomm's greatest is simply unrivaled at this point in time. Well, along with Apple's newest silicon, that is.
Anyway, we've come across devices with this chipset a few times already, and you can rest assured that it's a mean performing machine that is often only held back due to the sometimes particularly heavy Android ROMs that some manufacturers like to slap on top of everything. Given that you'll be running a stock Android 4.4 KitKat experience, however, it should be some pretty smooth sailing. This means that even the latest, most exacting gaming titles will run great, thanks to the mighty Adreno 330 GPU.
Nothing jogs its memory
Ah, memory. This particular segment is perhaps the Nexus 5's weakest link. The 2GB of RAM are probably going to be sufficient, despite the fact that the latest trends indicate that 2014 will probably be the year when devices climb over the sacral number to 3GB. So in a way, one could say that the Nexus 5 doesn't feel 100% future-proof, though that shouldn't stop you from making the jump, anyway.
But, there's another, far more pressing issue with the Nexus 5 – it's still stuck with just a 16GB or 32GB internal storage option. What's even worse, habbits apparently die hard, and Google appears to still loathe the idea of microSD expansion. Anyway, this amount of storage can be more than enough for some, especially now that cloud storage is as ubiquitous, though seeing as some apps have already crossed the 1GB threshold, it does raise a question whether this kind of storage is simply becoming a tad obsolete. The cloud can't host your apps, after all, at least for now.
In any case, at least the 32GB version ought to prove spacious enough for a large enough number of potential customers, but the real power users among you may be left with some hard choices.
8-megapixels of optically-stabilized goodness
If you ever owned a Nexus 4, you'll know that the camera on it was arguably the most underwhelming piece of the entire package. Google and LG appear rather excited about the camera unit on the Nexus 5, though that's not entirely surprising, seeing as Google has been hard at work on the software side, and LG's work was very well received with the LG G2.
Speaking of the G2, the press release notes that the Nexus 5 has an OIS module identical to its flagship. Some of you may be a tad disappointed that the camera is "only" 8-megapixel, though you should know by now that pixel count is hardly all there is to taking great photos. On that latter front, the duo boasts that the new unit features "longer exposures, less blur and less noise". They go further still, claiming that the "Nexus 5 is unmatched in dim light performance". That's a lot of noise, yet specifics haven't actually been released just yet, and we'd prefer to judge for ourselves, anyway.
Last, but not least, the Nexus 5 will apparently also bring an "improved HDR+ mode" that will capture a burst of shots simultaneously, and then merge those into one great photo with a greater range of shadows and "light culled from the multiple exposure and color data".
Sounds pretty familiar, no
?
Enough juice to last an entire... day?!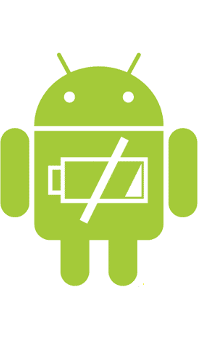 See, when we said that the memory department is the Nexus 5's Achilles heel, we forgot all about the crappy battery life on the Nexus 4. The previous Nexus had a 2100mAh cell, whereas the new one features a slightly larger, embedded 2300mAh Li-Polymer battery. Seeing as the Nexus 5 was based off the LG G2, some of you may have been expecting a 3000mAh unit instead (and rightfully, battery life on the G2 is beyond awesome!).
Before you accuse us of nit-picking, you've got to consider the facts here. The Nexus 4 shipped with a 720p screen, whereas the Nexus 5 features a more exacting 1080p panel. Considering that the display is still by far the most power-hungry component, one has to wonder what kind of battery life one will be able to squeeze out of the Nexus 5. On the positive side, Google is rumored to be introducing quite a few kernel and overall tweaks to Android 4.4 KitKat, which hopefully means that post Android KitKat battery life will be a different topic altogether.
Physical matters
While the Nexus 5 features a bigger screen than the Nexus 4, Google and LG have managed to work that Moto X magic, meaning that despite the larger screen, dimensions have been kept in check. In other words, you get some extra real estate at the cost of minimal extra bulk: the dimensions of the Nexus 5 read like this: 137.84x69.17x8.59mm. These numbers mean little to most any of you on their own, but if you consider the Nexus 4's dimensions of 133.9x68.7x9.1mm, then it becomes clear exactly what we mean. Best of all, LG has managed to shave off a few grams from the weight of the Nexus 5 – it now tips the scales at 130 grams, a slight improvement over the 139 grams on the Nexus 4.
Moreover, and as some of you will be quick to point out, the Nexus 5 has also gotten slightly thinner, at 8.59mm. That's still far from some devices, though in our personal experience this is about where a device should realistically stand. Yeah, that's right, we're not big fans of the ultra-thin designs – while elegant, they're not as practical. While still on the topic of practicality, you know that saying about pictures being worth a whole bunch of words, right?
A word on connectivity
Connectivity options usually receive the least attention, but that's only because we've come to take most of these for granted. Well, except when we don't. One such item has been the LTE 4G radio on the Nexus 4, or rather, the lack thereof. As is to be expected, the Nexus 5 remedies this omission and will offer users blazing fast speeds, though the very fact that we felt this needs to be specifically pointed out says quite a bit about how we felt when the news of no LTE for the Nexus 4 first came out.
Moving on, the rest of the on-board extras include the usual really, at least as far as Nexus devices are concerned: Wi-Fi, GPS, NFC and wireless charging (almost surely based on the Qi standard).
Nexus 5 – a phone worth picking?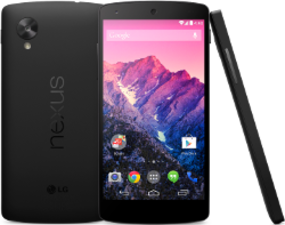 If you got this far, you're a real trooper, and it's probably kind of safe to assume that you're at least slightly interested in picking up the Nexus 5. So has the LG and Google duo managed to bring us another incredible value proposition? The answer is a resounding yes. At this price and point in time, you'd be truly hard-pressed to justify a different phone. The specs on the Nexus 5 are simply top-notch, not to mention that Android 4.4 KitKat and quick subsequent updates ought to be a massive selling point for the power users out there.
The only possible downside to the Nexus 5 is availability. The Nexus 4, while a similarly compelling product at the time, never sold as well as the flagships from Samsung, Apple or HTC for the simple reason that obtaining one was darn hard. Luckily, this time around Google and LG seem to have learned their lesson, and the Nexus 5 will be available on 10 regional Play Stores right off the bat. Perhaps more importantly, however, the duo has also announced plans to make the device available offline in multiple areas, including Central/South Americas, Europe, the CIS and the Middle East, starting in mid-November. At the unbeatable price of just $349 it can hardly get any better than that, folks!