Nexus 10 32GB price slashed to $350 on eBay
14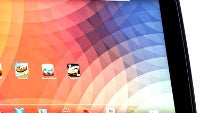 The
Google Nexus 10
tablet has one of the sharpest screens ever put on a tablet and it now also comes at an extremely affordable price. The Nexus 10 is now on sale on eBay for $349.99 for the 32GB version. That's a huge $150 off its original price.
Such huge price cuts usually happen around the end of the lifetime of a product and questions will inevitably surface whether this should be taken as a hint that a new 10-inch Nexus tablet is coming. After all, it's been already around a year since the original Nexus 10 launched, and Google has shown it is committed to timely yearly updates for its Nexus series. It could well be a hint in that direcation, but still, let's not read too much into this.
A deal is a deal, and what you get for your $350 is the Wi-Fi only (no cellular connectivity) version of the Nexus 10. We have to once again highlight the fact that this is the 32GB model, not the basic 16 gig one.
All in all, at this price, the Samsung-built Nexus 10 will surely draw comparisons with products like the more expensive Apple iPad series. Should you buy it, though? As good as this sale looks, we'd still wait a few more days as Google is expected to officially unveil its new devices by the end of the month and those might make the current 10-inch Nexus look outdated quickly.