Nextgen Reader now free for Windows 8/8.1
3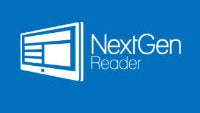 Nextgen Reader has been one of the best RSS reading apps for Windows devices since back in the days of Google Reader. The app is now a Feedly client, but it still maintains its impressive quality. It's such a good app that it has been quite successful even with a premium price tag of $2.99, but today the Nextgen team is offering a great deal.
Nextgen Reader for Windows 8, Windows 8.1, and Windows RT devices is available for free. The deal began at around 11AM EST today, and is scheduled to run until 11AM tomorrow, so you all have about another 14.5 hours to grab the app. This is not just great for those of you in need of a solid Feedly reader app, but more importantly for Microsoft, this deal brings attention to the Metro side of Windows 8 for desktop and Windows 8 tablets.
Windows 8 tablets are in the same trouble spot that Android was in a few years ago, where it is hard to sell hardware because there aren't many quality apps, but there aren't many quality apps because no one is buying the hardware. Microsoft is trying help on both sides with more incentives to developers, as well as
lower licensing fees
to allow manufacturers to build cheaper hardware. Inexpensive hardware has been the key for Android, and Microsoft is hoping the growth it has seen in the phone market can translate to tablets as well.