Next iPhone to have at least a 4" screen, says Wall Street Journal, display production starts in June
66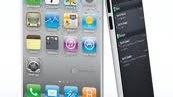 Wall Street Journal's secretive but usually connected "sources familiar with the matter" reconfirmed what everyone plus doggie are expecting from the major iPhone edition this fall - it will
have a larger screen
.
The production of those displays has apparently been poised to start next month, which makes sense if Apple would want to put it all together towards the end of the summer.
The WSJ report did not pinpoint a screen size, but the sources have mentioned it will be
no less than 4"
. Now we've analyzed ad nauseaum how today's phones can have larger screens and still be as compact, light and durable as the ones with smaller screens of yesterday, so that's what might be going on here with Apple's 2012 iPhone.
Considering that Apple is very adamant that people still reach everywhere on the screen with their thumb during one-handed operation, instead of having to use two palms, a 4-incher would be the sweet spot.
Its other selling points are said to be thin metal chassis and LTE connectivity, as well as all the goodies that will come with iOS 6, like the rumored
homebrew Maps software
Apple is allegedly prepping for its gadgets.