Next iPad will be thinner, adopt iPad mini like screen tech
11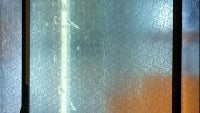 The date for Apple's next big event seems set now - it should be September 10th, and while chances are that Cupertino will unveil a new smartphone (or smartphones), this latest piece of intelligence coming straight from the Wall Street Journal says Apple is preparing a thin film 9.7-inch iPad.
What does this mean? First, the new iPad would be thinner. Second, it will use the same touch sensor as the iPad mini. In previous iPads the touch sensor, the part between the liquid crystal display and the cover glass, was made out of glass. The new iPad however will adopt a thin film touch panel like the one in the iPad mini, and this will allow Apple to make the tablet even thinner.
The thin film material did not end up earlier in consumer products because of technical issues, but those now seem to be ironed out. Thin film is both thinner and lighter than glass panels.
We have already seen the alleged body of the next iPad. If those leaked images turn out true, the device will also get a redesign in an iPad mini-like fashion, becoming more compact, with narrow bezels, new volume rocker and changed shape.
source:
Wall Street Journal
[/SLIDESHOW]