Google and LG Display unveil OLED display for VR headsets with 1,443ppi and 120Hz refresh rate
7
Back in March, Google and LG Display mentioned that the pair were working together on a new VR/AR display that would be unveiled in May. And sure enough, the 4.3-inch panel was introduced yesterday at the Display Week 2018 expo in L.A. The new display features a resolution of 3,840 x 4800 and 1,443ppi. It features a 120Hz refresh rate and a 120 x 96 Field of View. Two of these panels can be used together, each covering one eye. The panel is optimized for mobile VR and AR use and weighs in at 18MP. It currently is the "world's highest-resolution OLED-on-glass display."

Google's own research paper on the display points out that the upper bounds of human sight is a resolution of 9000 x 9600 and a Field of View of 160 x 150. A custom high bandwidth driver Integrated Circuit is in use, and a technique known as foveated rendering allows the user to see what he/she is looking at in HD, while the background fades around that subject.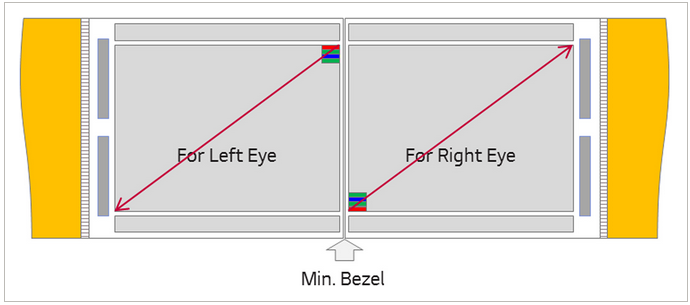 How the panels would be configured for a VR headset
When used with a mobile device and powered using a mobile chipset, the refresh rate might have to be reduced to 75Hz. Still, the new panel is far and away superior to the current displays used on VR headsets, which average 2MP.

Comparing the specs on Google and LG Display's new VR panel with the upper bounds of human vision