Next-gen Samsung Galaxy Gear launching along with the Galaxy S5
21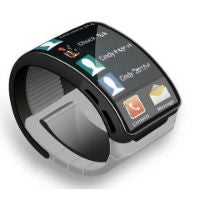 The general indications ever since the Samsung Galaxy Gear was first released was that Samsung was planning to have its follow-up offering ready to be shown at CES 2014 in January. It looks like that plan is still on track, because a new rumor says that the next generation Samsung Galaxy Gear is going to be launched alongside the Galaxy S5.
The Samsung Galaxy S5 is expected to be released either in February or March. Unfortunately, there isn't much as far as information on what changes Samsung is planning to make with the next version. It is being reported that Samsung is working on the device, but the only info is that it is expected to be 15-20% thinner than the first Gear. That alone is a definite improvement, because the Gear is quite a chunky device.
We're hoping that the battery life gets another bump (there was a
software update
today that claims to extend battery life), and of course the price tag on the Gear needs to see a drop. What other changes would you like to see?