Next-gen Qualcomm Snapdragon APQ8084 chip leaks with Adreno 420 on board
40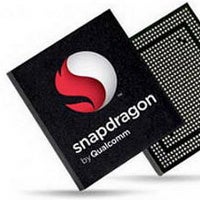 A mysterious new Qualcomm Snapdragon system chip has appeared on the AnTuTu synthetic benchmark app and it's a hint of what's to come next in high-end smartphones and tablets.
The chip, bearing the codename APQ8084, has the capacity to reach a whopping 2.5GHz clock speed. That's 200MHz more than the current maximum of the quad-core Snapdragon 800 - it runs at up to 2.3GHz. The new chip is also listed as a quad-core one, but it's unclear whether we're talking about Krait 400 processing cores as the ones in the current top-shelf Qualcomm chip, the Snapdragon 800, or a newer modification.
Another interesting features to get unveiled in the mysterious chip's appearance is the Adreno 420 graphical processing unit (GPU). It is expected to run at higher speeds than current cream of the crop Adreno chips and reach 500MHz clock speeds. The Adreno 4xx series of chips are expected to add support for DirectX11 and WebGL2.0 graphical standards. Looking at pure performance, the new Adreno 420 should get a 10% bump in
pixel
fill rate when fared against the Adreno 330.
There are a few other improvements expected to happen in this new Snapdragon chip and probably the most important one is support for 64-bit DDR3 memory bandwidth. The whole chip however is still expected to run on a 32-bit architecture and not 64-bit one like the newest Apple A7.
Earlier this year, Qualcomm's full roadmap leaked out and it now seems that with testing obviously undergoing for the APQ8084, the chip maker is on track to realize its roadmap plans. The Qualcomm Snapdragon APQ8084 release is expected to happen in the first half of 2014, and it might well end up on some of next year's top smartphones.