News about the death of the HP TouchPad reaches the Fuhrer
7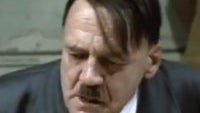 You might have heard about
HP partially quitting on its $1.2 billion Palm investment
, ditching the new born HP TouchPad and shifting the tectonic plates of the industry, but news has come to the fuhrer as well. In this evergreen cut from the movie Downfall, Hitler gets informed about the TouchPad, shows his attitude towards Android tablets and the iPad and laments about music sharing with his mom.
Don't worry, fuhrer, it might have been for the better - you can not only snatch a
16 gig HP TouchPad for the mere $99 now
, but if you were an early adopter you'd also get reimbursed for your trust in HP.
But while the fuhrer still obviously doesn't know about this, feel free to watch him pour out his anger to his poor officers.