Newest update to the Lose It! app allows you to take a photo of your food to count your calories
1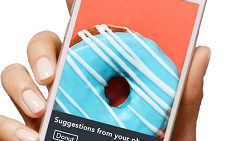 If you're trying to lose weight, you're all too familiar with everything that you've got to be responsible for in order to ensure that you're leading as healthy of a lifestyle as possible. Between lifting weights, taking dietary supplements, going on walks or runs, and everything else, there's no shortage of things you need to do in order to start shedding those extra pounds. However, one of the most annoying things about losing weight is, without a doubt, tracking calories. Having to whip out your phone to manually punch in what you ate, when you ate it, and everything that was in it is a critically important step in the weight-loss process - but it's also the most tedious.
Weight-loss apps have tried to make this process as easy as possible for quite some time now, but thanks to the latest update to the Lose It! app, the whole act of calorie-counting might just have changed for the better once and for all. In the newest update, the Lose It! app has gained a feature that is being called "Snap It." Snap It works as you'd probably be able to guess by the name, as it allows folks to take a picture of their meal and then have the app determine how many calories are in that meal or food item based off of the picture that was taken. The feature is currently in beta form, but FitNow Inc's CEO Charles Teague (the company behind Lose It!) has said that Snap It currently has an accuracy of 87.3% up to 97.1% in regards to accurately determining how many calories are in a meal or food item.
Once a photo has been taken with Snap It, the new feature will analyze the photo and then provide a reading as to what was captured within a matter of seconds. The amount of servings and calories will be read off once the photo has been analyzed, and you'll then have the option to add any additional detail to the meal you're eating to help the app accurately determine how many calories you're actually taking in (e.g. the type of bread or vegetables included in a meal). Snap It is constructed as a type of neural network, and that means that the feature will get smarter and better at accurately reading your photos as time goes on. So, the more you use the app, the better it will get at determining what you're eating and how many serving sizes you're consuming as well.
According to Teague -
Ultimately we want to make understanding your diet as simple as Fitbit made understanding your activity. Snap It is going to give us the opportunity to reach a whole new set of users that may have found tracking frustrating or might've never even tried it because it seemed too time consuming. When tracking is a simple as snapping a picture, it becomes accessible to nearly everyone.
The new Snap It feature is available now in the latest version of the Lost It! app for both Android and iOS.