New trailer for Jobs shows more scenes from the biopic; nationwide release slated for August 29th
9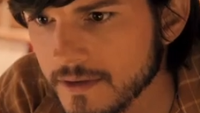 With the nationwide release of Jobs now scheduled for
August 29th
, the promotional drums continue to beat for the movie which stars Ashton Kutcher as Steve Jobs. A new trailer was released on Tuesday with some additional scenes. Josh Gad (
The Book of Mormon
) plays Steve Wozniak. The trailer follows
the release of an earlier featurette
which included scenes from the movie along with interviews with Kutcher and Gad.
The film shows the birth of Apple, the company going public with a NASDAQ listing, and Apple's decision to bring Pepsi-exec John Sculley aboard. Sculley, who is as beloved by Apple fans as Yoko Ono is by Beatles fans, took over as CEO from Jobs and promptly led Apple about as well as you would expect from a soft-drink executive.
Most of you know the story by now. Jobs ended up at Pixar and at NeXT and when the latter was acquired by Apple, guess who found his way back into the company he co-founded. Jobs then had a series of hit devices in a row, some of which you might have heard of. The iMac, iPod, iPhone and iPad helped make Apple what it is today. And whether you like it or not, the man did leave a legacy of products that helped cement his reputation.
source:
JobsTheMovie
via
AppleInsider