New technology tests smartphone batteries in just 4 minutes
5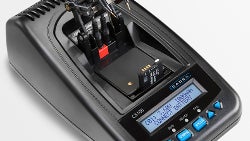 One of the most important pieces of hardware inside a smartphone these days is the battery. The better the battery, the longer you can use your your device. Even though new technologies are discovered every year, batteries are still a disappointment for smartphone users, as you can rarely get more than 2 days of average use from most devices.
Hopefully, that will change in the future as many companies have found ways to improve batteries that are used inside smartphones, but they failed to bring them on the market since the manufacturing process would be too demanding for smartphone makers.
A company called Cadex is about to release a battery analyzer device that can test single cell Li-ion batteries of up to 4,000 mAh. But there's a catch, you'll only get results like "Good" or "Bad." The company didn't really defined what good or bad means, but it probably refers to the quality of the battery and not how long it will provide your smartphone with the much needed juice.
The test only takes 4 minutes and is compatible with Apple and Samsung smartphone batteries. No clue on whether or not it could work on other brands as well.
Keep in mind though that the Cadex C5100-B battery analyzer is meant for retailers and features a PC-Battery software that offers an extension to battery service by storing customer info, recording anomalies and printing service reports.
Basically, if you have issues with your phone's battery, you can head over to a retailer that owns such a device to test it for anomalies. It will tell you if the battery must be replaced or not. That's about all it can do, but it's already useful to authorized smartphone sellers.
Although battery analyzers exist for a long time, the C5100 model is the first to benefit from the new technology to test smartphone batteries so fast.
source: Cadex Electronics